杭州师范大学
Founded as a teacher training school in 1908, Hangzhou Normal University has a history of over 100 years, which has bestowed the institution with a glorious tradition of producing first-rate teachers and educators at different levels for the whole Chinese nation. Through a century's development, the University has now become a comprehensive institution of higher education with a full spectrum of disciplines, covering such areas as arts and sciences, humanities, education, music, engineering, information technology, business, law, medicine and nursing.
Hangzhou Normal University currently offers about 60 undergraduate programs and over 80 graduate programs conducted in its 2 faculties and 19 schools. Its total enrollment in 2011 includes over 20,000 full-time undergraduate students and over 1,600 graduate students, who have been receiving a distinctive quality education that will enable them to build a future of professional, intellectual and personal success, capable of leadership in different areas, whether it be political, cultural, economic or academic.
While maintaining its honored tradition of excellence in education, the University has been attaching equal importance to research, with a faculty capable of undertaking research projects in different areas, both basic and applied, to address pressing issues and challenges in economic development and social progress of today and in the future for the region, the nation and the world.
Thanks to the exceptionally strong support from governments at different levels in China, Hangzhou Normal University has in the past few years been making remarkable advancement towards its goal of developing into an institution on a par with the 1st-rate ones in the nation whose education, research and service are of reputable excellence and high distinction not only locally but also globally. To achieve such an ambitious goal, the University has been making painstaking efforts in globalization, by forming partnerships with universities, research institutions, governmental organizations and industries from different parts of the world, by engaging and retaining outstanding scholars with international fame to offer courses to its students here, by encouraging its students to study abroad and at the same time welcoming students from abroad to its campuses here, by supporting its faculty members to collaborate with international counterparts in various academic projects.
This portal is a road map to the diversity of the intellectual opportunities available at Hangzhou Normal University. It is both a comprehensive guide to the institution's academic programs and a testament to its achievements and aspirations. We sincerely hope that the information you find here will finally bring you to this university, located in Hangzhou, a world-famous tourist resort known for its rich cultural heritage as well as breath-taking natural beauty and the capital of Zhejiang Province where miracle-like economic growth has been felt for over 30 years.
Hangzhou, reputed as "Paradise on Earth" for centuries in China, is one of the country's most renowned and prosperous cities. It is well known for its remarkable economic growth and social progress with reputable efforts in sustainable development in the past several decades as well as the rich cultural heritage as possessed by an ancient capital of China and the breathtaking natural beauty as represented by the world-famous West Lake.
In the year of 2007, the Hangzhou Municipal Government launched a campaign calling on its citizens to make joint efforts to develop the city into one of "Quality Living", which encompasses the quality improvement in all aspects of people's life, including economic development, travel resources, health and wellbeing, social stability, employment, household income, government efficiency, educational qualification, environmental protection and infrastructure. As a result, the City has been listed at the top of the few "Happiest Cities in China" for five consecutive years, in addition to the awards of "UN Habitat Scroll of Honor" from the United Nations and the title of "International Garden City" it won in 2001 and 2002 respectively.
Hangzhou is the home of the annual "West Lake International Expo" and the 1st and 2nd "World Leisure EXPO".

West Lake in Hangzhou

The West Lake Cultural Landscape of Hangzhou, which is now a UNESCO World Heritage site, comprises the West Lake and the hills surrounding its three sides, covering a total area of 59 sq. km. It has inspired famous poets, scholars and artists since the 9th century with numerous temples, pagodas, pavilions, gardens and ornamental trees, as well as causeways and artificial islands.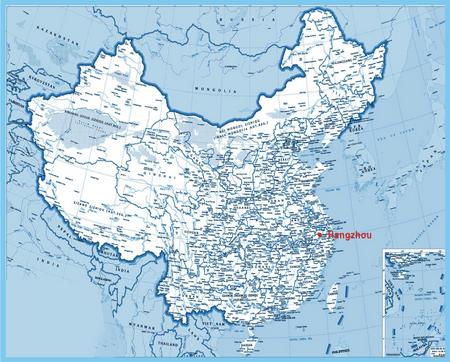 Hangzhou, China